Happy Solstice Dear Friends,
June 21st is the Summer Solstice. Also known as Midsummer, it is one of the eight great spokes on the Celtic wheel of the seasons. The Solstice (meaning sun stands still) is universally recognized in all cultures as an important turning point—it is the longest day of the year in the Northern Hemisphere. Sun energy is at its peak and we feel the primal creative force of the Sun God. I wonder if those who chose to make Father's Day so close to the Solstice each year knew this. Just as Mother's Day is close to Beltane which is the ultimate celebration of fertility, Father's Day is close to the Celtic tradition of honoring the masculine sun energy.
Midsummer's Eve is one of the three important spirit nights of the year; the other two are Beltane (May Day) and Samhain (Halloween). When the veils are thinnest between the worlds, we can communicate with the spirit world more easily. Since you are especially close to spirit guides and ancestors at this time, pay attention to the messages you receive. Do you remember Shakespeare's comedy, The Tempest? The famous Bard taps into the common beliefs, even as late as Elizabethan times, of this spirit night.
During this time when the spirit world is closest, Gary and I had a very close encounter with a wild and beautiful red shouldered hawk that I named Lady Hawk. In 30 years, we have never had such a magnificent bird visit our property. For over 26 hours she stayed, clearly recuperating from something she had ingested, and her presence in my Quan Yin Garden of Compassion, just outside the door of my therapy office, felt especially auspicious (see the picture of her perching on the Quan Yin statue). After watching her carefully all day, we woke up this morning to find her huddled by a cluster of power rocks from our desert property that had been placed just outside Gary's poolside office. She seemed to be ready to make her transition as she was on her back, so Gary covered her gently with soft cloth to help her preserve heat.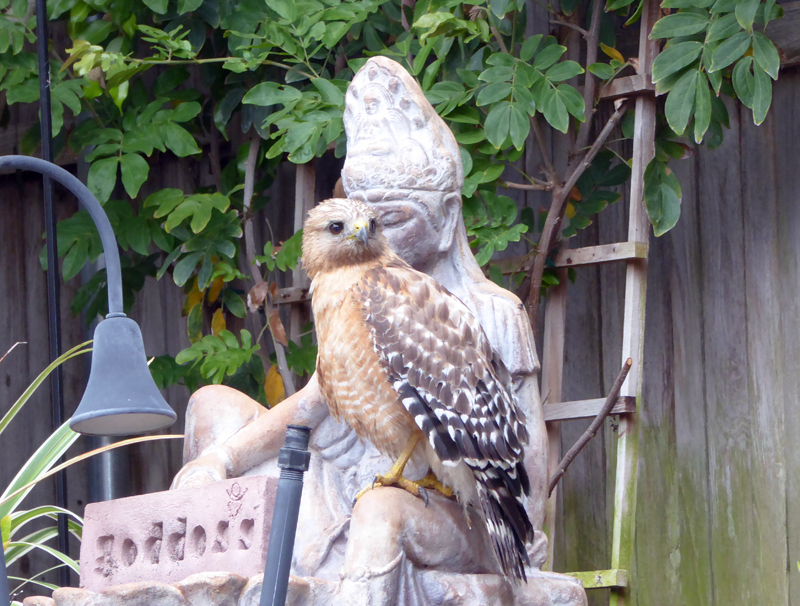 A little later he carefully placed a healing crystal just by her head and as we watched, she began to perk up and in a few moments, she pushed herself upright and Gary removed the cloth. Within minutes she'd flown to perch on our Gazebo while we waved away mocking birds that were harassing her, protecting their nest. We still didn't know if she could fly as high as she would need to in order to return to her natural habitat, which is in high forest trees. She stayed quite close to where we watched her, very aware of our presence and she even moved to a plumeria tree that was closer to us before finally moving to a higher tree, then to the top of our roof and finally to a much higher tree in our front yard, each time flying steadier and more confident until she made her final flight home. We were amazed and delighted with what seemed a miraculous recovery.
Yesterday, after he discovered her in my garden, I handed Gary the Power Animal Oracle Cards by Steven Farmer and the very first card he turned over was Hawk, which was a perfect message for him, "FOCUS, choose your priorities and eliminate all distractions."
Given what happened with her wondrous recovery this morning, I decided to look up Hawk in Animal Speak, one of my favorite references for the ancient meanings. Hawks were described as one of the most mysterious birds of prey and the key words were visionary power and guardianship. Tuning into the spirit messages makes sense at midsummer and I do feel that unusual animal encounters are messages from spirit.
I still don't understand all meanings of our experience were but I do know we were touched by the mystery and any of you who have had close encounters with wild creatures know what I mean. We feel blessed that Lady Hawk came to us and that we contributed in some way to her recovery. And if wild animals don't come to your backyard, than I encourage those of you who love to hike to take advantage of the long days and meet nature where ever you can, especially early in the day or just before sundown when animals are more active. The indigenous people worldwide were far closer to nature and accepted power animals as spirit guides; it was a virtually universal knowing. Many of the ancient traditions consider such encounters major messages from divine source.
If you feel called, email me your stories of close encounters with the animal world. And enjoy the Summer Solstice and all the mystery it can offer.
Love and Blessings, Linda
lindasavagephd@goddesstherapy.com